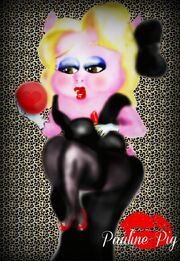 Pauline Jane Pig
is an original character created by 
Raquel-Porkbelly.
  She  is an anthropomorphic pig, and the girlfriend of
Dalv Vollin
.
Appearance
Pauline's porcine physique is pudgy and dainty.  Her height is about short-to-average; she's only inches taller than the Three Little Pigs and a head shorter than Peter Pig.  Her physical facial features are big, brown-black eyes with thick lashes, plush red lips, a snout, 1930s-styled blonde hair, and puffy; rosy cheeks.  Pauline loves to don traditional; over-sized hair bows, and occasionally overdoses makeup.  
Relationships
Dalv Vollin: 
Peter Pig:
Nervous Horace:
Ad blocker interference detected!
Wikia is a free-to-use site that makes money from advertising. We have a modified experience for viewers using ad blockers

Wikia is not accessible if you've made further modifications. Remove the custom ad blocker rule(s) and the page will load as expected.